Α small stone mill evolved into one of the most dynamic Greek family businesses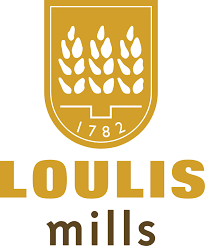 Name of the provider / Family business 
Professional sector and company size 
Flour milling industry – The company employs 350 people 
Need/problems/challenge addressed 
https://www.loulismills.gr
In 1782, Zois Loulis laid the foundation stone by establishing a stone mill in Aetorachi, Ioannina. The following generation, led by his son Ioannis Loulis, expanded the business and philanthropic efforts and became a major benefactor of the region. After Ioannis' death in 1870, he wisely transferred all his assets to the Loulis Legacy, which upholds the family's legacy in Ioannina and uses its income for public initiatives in the region.
In 1898, Christos T. Loulis recognised the economic potential of Volos, and vision of industrialisation and progress culminated in the construction of a new factory and the establishment of the roller mill Loulis Brothers – N. Hadjinikou & Co in 1914.
The family introduced Greece's first semolina mill, sparking a revolution in the industry. Afterwards, George Loulis and later, in 1961, Nikolaos K. Loulis, the grandfather of the current president Nikos Loulis, took over the management of the company, ushering in a period of rapid growth. In 1975 Nikolaos Loulis died before his 50th birthday. The management passed to his wife Evi Loulis, while the young Konstantinos Loulis, who had just graduated as a mechanical engineer in Switzerland at the age of 20, took over the role of managing director.
Konstantinos Loulis wasted no time in ushering in a new era, inaugurating a state-of-the-art mill with a daily capacity of 180 tonnes in the industrial area of Volos in 1978, after making extensive technological investments. In the early 1980s, the company broadened its horizons and ventured into export markets in the East and Africa. By 1988, "Kylindromylos Loulis" had taken the company from 12th place in 1978 to an enviable second place in the Greek flour industry.
The company's expansion continued in 1993 with the establishment of a branch in Macedonia, based in Kalochori, Thessaloniki, and the acquisition of the Simitzis Mill in Kavala in 1995. The acquisition of 52% of the shares in "Mili S.A. Georgiou"," a major competitor in the industry, and further expansion in the Balkans marked a new chapter, culminating in the renaming of the company as "Loulis Mills"
The commitment to investment remained unwavering, as evidenced by the replacement of the mill with a new plant on 7 November 2012. At the same time, the company's product range was significantly expanded. In 2015, "Mills Loulis" acquired the Greek company Kenfood, which specialises in baking raw materials, thus consolidating its position and continuing its successful path as a family business. This story underlines the crucial importance of a well-structured succession plan for the preservation and further development of a family heritage.