A family-driven philosophy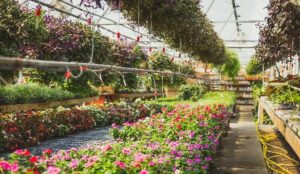 Name of the provider / Family business 
Professional sector and company size 
Retail sale of flowers, plants, seeds, fertilizers, pets and food for these animals in specialized stores, <50 employees 
Need/problems/challenge addressed 
Family business management and values 
https://jardinerietarnaise.fr/
Jardinerie Tarnaise is the result of a shared passion, that of Jean and Gigi Bousquet, and their children. Since the 1970s, Jardinerie Tarnaise has undergone significant changes, evolving from its humble beginnings as a weekend flower stand run by the Bousquet family outside the Leclerc supermarket in Lescure, France. The business expanded with the construction of greenhouses, leading to the birth of Les Serres Tarnaises (Tarnaise's greenhouses). Recognizing the demand for flowers, they embarked on an innovative project, establishing one of France's first garden centers in 1976.
Over the years, Jardinerie Tarnaise became a prominent gardening destination in the Tarn region in southern France. They pursued external growth by acquiring a seed store in a shopping center. With the involvement of the next generation, the family continued to expand the business and with multiple renovation projects, Jardinerie Tarnaise flourished. Throughout its 45-year journey, the company's core values, deep connection to its roots, and commitment to independence have made it stand out, offering quality products, an extensive range, and expert advice to its ever-growing clientele. From a team of six employees, the company now boasts around 100 collaborators, with the emergence of the third generation, led by Guillaume Bousquet.
The success of Jardinerie Tarnaise can be attributed to the family's unwavering commitment to building strong relationships with its customers. In the 1980s, Jardiland, a prominent garden center chain in France, established itself merely 50 meters away from the Bousquet family business. "He (Jardiland's CEO) arrived like a minister," said Gigi Bousquet, "but we made it!" Four years ago, the Bousquet family achieved a remarkable feat by surpassing Jardiland in sales, leading the competitor to concede defeat and relocate.
According to Jean and Gigi Bousquet, this achievement was possible because of the family's approach towards their customers. Jean stated, "I think that the clients have felt the spirit of family in us, […] The client was received like a friend." Their personal touch and warm reception made a significant difference in the way customers perceived and connected with Jardinerie Tarnaise. The family's spirit and mentality have remained one of the keys to the success of the business. More than just a spirit, it is a relationship-based mindset that empowers and inspires the diverse teams to be passionate and responsible. The department managers personally select their products, attend trade shows, and manage their own inventory. This family-driven philosophy has created a unique and harmonious working environment in which "the family is a force, and the spirit of teamwork is a reality."
As Jardinerie Tarnaise expands to its third location, the family's core values continue to guide their growth. Their ongoing success and recognition, including being awarded the title of the "Best Independent Garden Center in France," serve as a testament to the positive impact of their family-oriented values and practices. Nurturing these values within a family business context has proven to be essential for overall success and customer satisfaction.