Tradition and innovation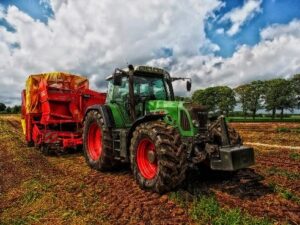 Name of the provider / Family business 
Agrotime EOOD (Single Member Limited Liability Company) 
Professional sector and company size 
Agriculture, 320 employees 
Need/problems/challenge addressed 
Agrotime is a family business that has been run by three generations of Ivanovs. Since its foundation in 1992 by the grandfather of the current owner and managing director, Agrotime Limited has successfully developed into one of Bulgaria's leading agricultural companies.
Agrotime's success came quickly. As early as 1997, the company was recognised by the World Economic Forum as one of the 500 fastest growing companies in Central and Eastern Europe. The commitment to direct trade without middlemen, introduced by Ivan's father, distinguished the company and facilitated its successful business throughout Europe.
Ivan Ivanov took over the family business after the death of his father, having spent his childhood in close association with the company. From an early age, he was involved in negotiations, meetings and production discussions. When Ivan Ivanov returned from his studies abroad in 2011, he was faced with an important decision – either to stay abroad or return home. He decided to return.
When Ivan took full control of the company in 2017, he faced the challenge of redefining the company's direction, especially after the death of his father. To ensure continued growth, he hired foreign experts and consultants to manage various aspects of the business. He also placed great emphasis on research and communication, qualities rooted in his family's tradition that kept the company on the cutting edge of modern trends.
Agrotime's steady development has been maintained by adapting to scientific advances and global standards. By experimenting with crop varieties and adopting practises from other countries, they developed state-of-the-art soil management techniques. Ivan strove to invest more in research and development, seeing this as the way to move the company forward in a sustainable way.
Expansion, collaboration and value – the company diversified through joint ventures, international investments and partnerships. Collaboration with Swiss partners in 2005 enabled Agrotime to produce high-quality bread wheat, a rarity in Bulgaria. In 2017, they established a joint venture for agricultural machinery and irrigation systems, expanding their reach.
Ivan is planning a foundation to support entrepreneurship in the region, a testament to his commitment to the community. While running Agrotime, Ivan remembers the wisdom he received from his father and grandfather – to stay true to one's values, remain resilient and make the best use of time, recognising it as the most finite resource.
Agrotime seamlessly combines tradition and innovation in its multi-generational business. Rooted in family heritage and guided by research and industry trends, the company thrives by harmoniously combining tradition and progress in its family business strategy.