Resilience of family businesses in times of crisis: creating a long-term vision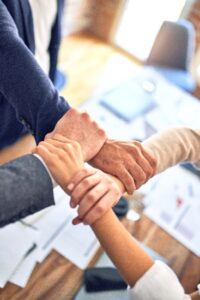 Name of the provider / Family business 
Professional sector and company size 
Agro-industry, >5000 employees 
Need/problems/challenge addressed 
Family business strategy, risk tolerance 
https://www.bonduelle.com/en/
The Bonduelle family business adventure started in 1853. Louis-Antoine Bonduelle and friend, Louis Lesaffre-Roussel founded a grain and juniper distillery Lesaffre et Bonduelle – Alcools de l'Abbaye (tr. Abbey Alcohols) in the North of France. After buying a secluded farm in a former abbey in a small village, with 76 hectares of land, the company thrived through investments. In 1888, Louis-Antoine and Louis succeeded the business to brothers and brothers-in-law and continued their trend of growth.
Pierre and Benoît Bonduelle took a note from the founders, converting a bar that was out of use into a pea canning workshop, launching the "Bonduelle pea". World War II forced the business to shut down as the French army requisitioned the farm buildings, but business would resume in 1945 and come back stronger than ever, especially with the boom in frozen food in 1968. In the 1970s and 1980s the business continued its growth, going international starting with Bonduelle Germany. Today, the group boasts a presence in 100 countries on 3 continents, €2,779 billion in revenue in 2020-2021 and 11,900 employees worldwide. The two main activities are retail and food service, with four "iconic brands": Bonduelle, Cassegrain, Globus, and Ready Pac Bistro.
The family business's survival in extreme moments, like World War II, reflects its most recent triumphs, surviving and thriving through the Covid19 crisis. France Champignon (tr. France Mushroom), a cooperative society, faced difficulties and was in judicial redress in November 2020 and according to a Les Echos article, "only the Bonduelle group was capable of saving the Saumur mushroom branch." France Champignon was held by four local producer cooperatives and one branch of Bonduelle, already a majority shareholder. To save France Champignon, the Group created a new cooperative company. In a way, the Covid19 crisis was an opportunity as the demand for canned mushrooms soared during the lockdowns. The Group plans to maintain its fresh mushroom production while further developing canned mushroom distribution. During this transition, the Group managed to save 250 of the 278 jobs under threat.
Today CEO Xavier Unkovic is part of the 8th generation. In terms of governance, Bonduelle SA is the Group's operational holding company headed by the CEO who is also "the permanent representative of the Manager of Bonduelle SCA." Christophe Bonduelle, former Chairman and CEO, has been acting as a non-executive Chairman of the Board of Directors of Bonduelle SA since July 2018. The Board of Directors, defining the company's strategy and investment policy, is made up of Bonduelle family members as well as independent directors. There is also an Executive Committee, a Remuneration Committee, an Ethics Committee, an Audit Committee and the Supervisory Board, all of which are composed of or report to some of the Bonduelle family members. Family members hold a strong role, balancing out independent directors and experts for a resilient and sustainable structure, promoting innovation and keeping up with the today's greatest questions, such as ecology: "the shareholding structure is characterized by a strong family presence. This guarantees a long-term vision and ensures stability and continuity."