Succession and risk: modern trends and innovation lead to success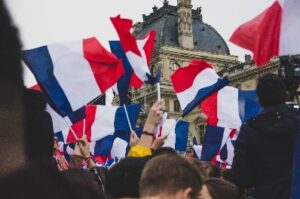 Name of the provider / Family business 
Professional sector and company size 
Need/problems/challenge addressed 
Succession, adapting family businesses to new technologies, and risk tolerance 
Broussaud Textiles is a historic French manufacturer of socks and tights. The family venture began in 1938 after Adrienne and Henry Broussaud were married in the small village of Les Cars. According to a France 3 Nouvelle Aquitaine article, Henry Broussaud thought that socks would be an important future product and market. He started by buying Bentley machines and installing them in the Limousin region with a workforce of 200 employees.
In the 1980s, the couple's son took over the company. This succession had some questionable aspects such as the son preferred a medical career to joining the family company. Additionally, the rapid shift toward mass distribution put the company in some difficulty. According to a Les Echos article, this was also heavily influenced by globalization, delocalization of the textile industry, and a shift toward making products in other countries for a cheaper product.
By 2006, another succession and shift took place. At this moment, the family business was in judicial liquidation with 70 employees and was only saved months later due to a philanthropic donation, which allowed the company to rehire 40 employees. This is the moment when Aymeric Broussaud, grandson of the founder, decided to take over the company. His father had discouraged him and had advised his son to "take on a McDonald's franchise instead of his succession". But Aymeric and his wife decided to take on the challenge, focusing on importation and negotiation. According to Aymeric, "I didn't see it coming, the return of 'Made in France'. I had moved on." He decided to conserve the manufacturing material rather than sell it because it had lost so much value.
Then Made in France started to make a comeback. Through partnerships with Patrice Cassard, manufacturer of La Fraise tee-shirts and Archiduchesse socks as well as Slip Français (French Underwear) making fashionable, athletic or even luxury clothing items, Broussaud started to develop again. These partnerships along with the development of e-commerce and the wave of Made in France, allowed him to have 150 small but loyal clients, 95% of whom are French. They even innovated manufacturing by robotizing/automatizing their factory, thanks to further investment from the brand Textis. Today, the family business is back to 68 employees, nearly its pre-liquidation numbers. We can see through this case that certain common challenges for family businesses were addressed by Aymeric Broussaud:
Adapting family businesses to new technologies.
Since family businesses gamble with their own capital, their risk tolerance is usually lower than other types of businesses. The decision to move forward even after the difficulties faced before and during the liquidation was a risk, even according to family members but it paid off.
A very delicate moment in the life of business is succession. In this case, we see succession complicated by the judicial liquidation. Still, Aymeric Broussaud took on his grandfather's business, keeping Broussaud Textiles in the family.